Blackreach Caverns treasure maps were added to the game in the Greymoor expansion. There are four of them, with two being marked as CE, and the other two can be found as a drop from enemies, bought, etc. Blackreach is an underground part of the Western Skyrim map. You can get to Blackreach with by using the three main entrances, marked as Great Lifts in Western Skyrim. When you pull the lever used to operate these lifts, they will take you to Blackreach: Greymoor Caverns. In this guide, we'll show you all four Blackreach: Greymoor Caverns treasure maps and their locations.
Blackreach: Greymoor Caverns CE Treasure Map I – Stone Tower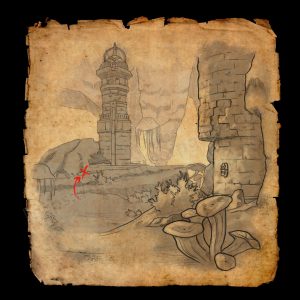 The tower drawn in the treasure map picture is Darkrise Overlook, a striking locale.
You'll find this dig spot in eastern Blackreach, southwest from the Lightless Hollow Wayshrine and Great Lift.
There is a drop behind the tower, so you'll be safe if you come through the passage south from the Wayshrine.
Screenshot Walkthrough
Blackreach: Greymoor Caverns CE Treasure Map II – Shrine Ruins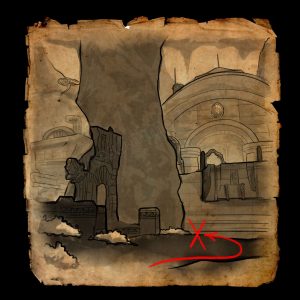 This one is located in eastern Blackreach, in an area called Lightless Hollow on the map.
To get to it, find the entrance into the small Bthang Outpost tunnel, located between Lightless Hollow to the east and Darkrise Overlook to the west.
Once inside the Bthang Outpost, head to the second floor (southwestern exit) and go through the door to Blackreach: Lightless Hollow. In the next room, continue forward and keep to your left. Continue onward while sticking to your left side. Soon, you'll get to the end of a platform. If you jump down, you'll find yourself on the dig spot marked on the treasure map.
Screenshot Walkthrough
Blackreach: Greymoor Caverns Treasure Map I – Mushrooms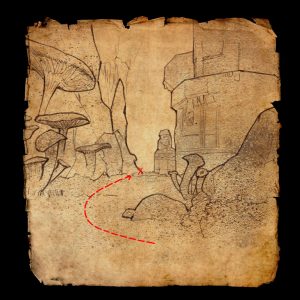 This treasure map dig spot is positioned in the southwestern part of Blackreach.
Just west from the Dusktown Wayshrine, there is another one, called Grotto Falls Wayshrine.
A bit west of it, you'll find a hidden treasure drawn in the picture. The small structure on it is actually a tiny lamp post.
Screenshot Walkthrough
Blackreach: Greymoor Caverns Treasure Map II – Stalagmite and Stalactite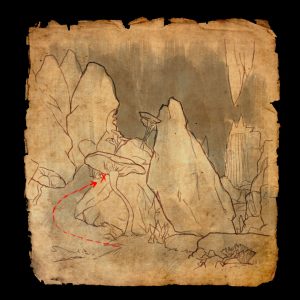 To get to this one, head to the southwestern part of Blackreach. Pan your view toward the ceiling northeast from the Grotto Falls Wayshrine.
You'll spot a large blue crystal stalactite. This is the one pictured in the upper right corner of the treasure map.
Coming from the Wayshrine, and seeing this marking, you'll have no issue finding the dig spot.
Screenshot Walkthrough