You can buy your first horse / mount at any major city Stable (marked with a horse icon on the map), for approximately 17,500 gold. Stable interface allows you to buy, access, feed, rename and sell your horse. Mounts, have three main functions in the Elder Scrolls Online. They allow you to travel more quickly (speed), increase your inventory space (capacity), and can be useful in Cyrondiil as combat warhorse that have higher resistance to caltrops and traps (Stamina). Each horse has a level cap of 50, which would make it impossible to max all three attributes. You can assign your mount to a quickslot for convenience.

Horse Attributes
Speed helps your horse to travel more quickly.
Stamina helps your horse to gallop longer, and take more hits before becoming dismounted.
Capacity increases carrying capacity.
After you get your first horse, be sure to talk to the stable master again. Once a day you'll spend gold to feed your horse and it will increase Speed, Stamina, or Capacity depending on what you choose to feed it with. To increase the horse speed choose Apple, for higher Stamina choose Hay, and for carrying capacity choose Oats. Each time you feed your mount (20hr cool down), you gain 1 inventory slot, if you maximize carrying capacity. Horse will change appearance as you feed it as well. So, speed horse will look different from pack horses.


How to rename your horse
You can rename your horse by clicking the edit name button in the top right.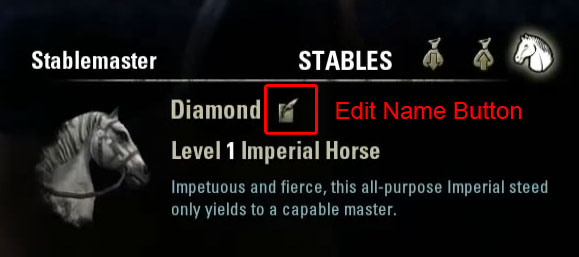 Horse Types
Imperial Horse
Info: In-game reward for players who bought Imperial Edition. Same characteristics as Common horse.
Price: 1 gold
Speed: 15%
Stamina: 10
Carrying: 0
Color: White

Common Horse
Info: Skip this horse if you can, and save your money for more expensive one.
Price: 17,200 gold
Speed: 15%
Stamina: 10
Carrying: 0
Color: Dark brown

Draft Horse
Info: Optimized for carrying capacity.
Price: 42,700 gold
Speed: 15%
Stamina: 10
Carrying: 10
Color: Brown & white painted

Gaited Horse (42700po)
Info: Tough horse, can't run fast, but can gallop longer, what makes him especially useful in Cirodiil.
Price: 42,700 gold
Speed: 15%
Stamina: 20
Carrying: 0
Color: Black

Light horse
Info: Optimized for speed, useful for short distances.
Price: 42,700 gold
Speed: 25%
Stamina: 10
Carrying: 0
Color: Light brown, black mane
Mount Tips
You can spawn your horse by pressing H
You can purchase more stable slots if you wish to own and raise multiple mounts, but you can only have one active at a time. You can visit any stable in order to change your horses.
There is no level restriction for getting your horse, it is just pure cost, and you'll have enough money to buy it at level 25 (the cheapest one).
Don't buy the slowest white horse. Save up for one of the faster horses and skip the slowest ones.