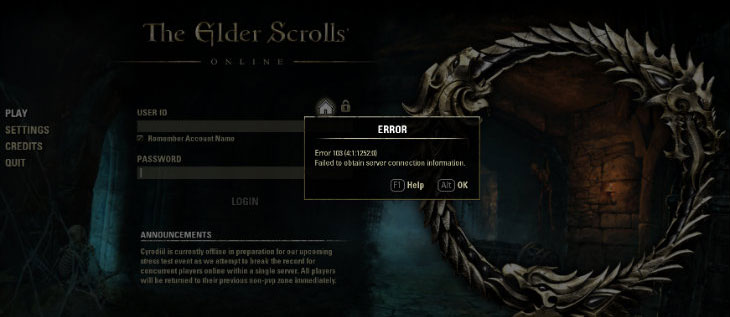 This list consists of descriptions and solutions for error codes you might encounter while login to the Elder Scrolls Online. The list will be updated regularly as new information are added.
Code – Description & Solution
102 – Realm Reservation timed out
Indicates an issue with the beta client patcher itself. Affected beta participants will need to restart their patchers.


103 – Failed to obtain server connection information.
The server is not currently open. Please try again during the times specified on your invitation.
This error may also affect you if your User ID contains a special (non-alphanumeric) character. If you've already selected a User ID containing a special character, please contact our Support Team, as they'll need to change it for you.
104 – Server Full
The current population is greater than or equal to the maximum population. The game server is at maximum capacity and can't take any more logins.
200 – Authentication Timeout
The authentication service did not respond and may be offline.
201 – Authentication Failed
Players are receiving this message because either they aren't using the correct username to log in, or because their username contains a special character. Please try requesting your user name from the login screen.
202 – Login Queue Cancel Timeout
The login queue service did not respond and may be offline.
203 – Login Queue Cancel Failed
The login queue service returned an error when the user tried to cancel.
204 – Auth OTP Timeout
The login queue service timed out when trying to get an One Time Password response
205 – Auth OTP Failed
The user entered the wrong One Time Password and they're being prompted to try again
206 – Auth OTP Locked
The user has entered the wrong One Time Password too many times and needs to wait to try logging in again
209/210 – Patch Manifest Error
This error occurs when selecting the EU server. Users instructed to uninstall/reinstall client.

Please follow the steps below to uninstall and reinstall the ESO beta client (do not uninstall the game from your computer's Control Panel):

Uninstall the game client
1. Select the Beta client on left hand side of the patcher
2. Go to game options
3. Select Uninstall
Install Beta Client
4. In the launcher Select the Beta client
5. Click Install
301 – Lobby Connection Failed
The client attempted to connect to the lobby. Please wait 10 minutes and try logging in again.
302 – Lobby Lost Connection
303 – Lobby Timed Out
305 – Unverified Protocol
In order to resolve your error 305 (Protocol Mismatch), you will need to delete some files from the game directory.
1. Please delete the eso.manifest file located by default here: C:Program Files (x86)Zenimax OnlineThe Elder Scrolls Online InternalLivegameclient )
2. Please delete the data.manifest file located by default here: C:Program Files (x86)Zenimax OnlineThe Elder Scrolls Online InternalLivedepot_databuild )
3. From your Windows Start menu, please search and delete the following files:
zos.control.manifest
zos.core.manifest
zos.eso.manifest
4. Restart the game client.
If after following the above steps you still receive the same error message, please reinstall the game.
306 – Realm Shutdown
The realm is online, but is shut down to not allow access to your specific access level. Users with a correct permissions matching the server lock variable may be able to log in.
311 – Bandwidth Cap
You were disconnected from the server because your client exceeded the maximum bandwidth upload limit to the server.
500 – Internal Server Error
The "500 Internal Service Error" normally occurs when either the web site or the internet provider's server has a non-specific issue.
Please try the following methods to correct the 500 error.
-Reload the web page either by clicking refresh/reload button, pressing F5, or trying the URL again from the address bar.
-Use a different browser such as Google Chrome, Firefox, or Internet Explorer.
-Temporarily turn off your anti-virus, ad/pop-up blockers, and firewalls. Make sure to turn them back on after the process.
-Clear web browser's cache, cookies, history, temporary files, form data, and active filters. Once complete restart your browser and try again.
– Attn: Time Warner Cable customers:
There have been reports of connectivity issues from customers who have Time Warner as their internet service provider.
My launcher will not start at all, or it gets stuck at "looking for launcher updates."
Try running the launcher as an administrator. If it still won't open, try installing the launcher into the default folder, Zenimax Online/Launcher in C:

If the launcher will open but not update, and you are running as an administrator, you can try disabling your antivirus, firewall, Pop-up blocker, Ad-blocker or webfilter temporarily and try again. Please make sure you re-enable your web protection afterwards!

We are aware that some players are unable to patch or update the launcher due to their automatic proxy detection.

• Open Internet Explorer (even if it is not your regular web browser)
• Open the Tools menu and select Internet Options.
• Go to Connections tab/LAN settings
• Uncheck "Automatically detect proxy settings" and hit OK.
• Press OK again to confirm.
Alternatively on your Control Panel, click on "Network and Internet" and open Internet Options:
• Connections Tab: Click on LAN settings. On the LAN settings window, uncheck all the boxes and click on OK.
• Advanced Tab: Click on Reset and then click on Reset again.
You may have to restart your computer for the changes to take effect.
My launcher stopped downloading at XY% giving me the error message: Webget request failed!
You might want to let the error sit for about 15 minutes, sometimes, the download will resume. Try to close the launcher and run as administrator when re-launching. if that doesn't help. To run as administrator, go to program files, right-click on launcher.exe and choose: "Run as Administrator".
If you have a desktop shortcut and try to open the launcher from there, try to run it directly from the program files. Sometimes malware causes the webGet to fail, so running an anti-virus program can fix this issue as well.
*Update:
Customers currently using Trend Micro protection software may need to to make sure there is an exception for The Elder Scrolls Online.

Black screen
#1 Integrated Graphics Cards
If you have an integrated graphics card, it is unlikely that you will be able to run ESO at the moment. Please keep in mind that this is beta, so our game isn't quite optimized yet.
#2. Admin mode
Right click the ESO launcher icon
Click Run as Administrator
#3. Make sure your drivers are up-to-date
Look at your DxDiag, are your drivers from 2012 or before? Yes? Then they need to be updated.
#4. Make sure that the latest version of DirectX is installed on your system
#5. Adjusting the Screen Resolution in the UserSettings File.
The default location of this file is Users*USERNAME*My DocumentsElder Scrolls OnlineliveUserSettings.
#6. Try to delete the ShaderCache.cooked file
The default location for the file is C:Users*USERNAME*My DocumentsElder Scrolls Onlinelive.
After that file is deleted, run the game as administrator, and it will recompile that file. If the file is missing or empty, it is likely that something is preventing the system from creating that file correctly (which is an issue we are currently investigating).
Game crashes during cinematic
Locate the The Elder Scrolls Online game file. This file can normally be found in C:Program Files (x86)Zenimax OnlineThe Elder Scrolls Online Betagameclienteso.exe. It is important to note that this is NOT the launcher, but the game file for the Beta itself.
Once that file is located, right-click the file and select Properties at the bottom of the list.
Once the Properties window is open, select the Compatibility tab.
Select the option to "Run this program in compatibility mode" and from the drop-down menu select "Windows XP SP3" (it may say Service Pack 3).
Select the option "Always run this program as an Administrator"
For ease of use, right-click the eso.exe file and select "Send To…"
From the subsequent slide-out menu, select "Desktop (Create Shortcut)".
This will allow a very easy, quick way of opening a game running in compatibility mode.
Upon login, my character keeps spinning around and there is no way to control it.
#1. For Windows 8 users: Upgrading to Windows 8.1 has shown to resolve this issue.
#2. Right-click on the ESO launcher icon and click "Properties." Select the "Compatibility" tab. Select "Disable display scaling on high DPI settings." Click "OK."
Repeat this process on eso.exe