Hew's Bane is an area located in western Tamriel. It has one large settlement, called Abah's Landing, which you can teleport to. You can only reach this area if you are an ESO subscriber, or you bought the Thieves Guild DLC, which adds this new zone. ESO Hew's Bane treasure map locations guide will show you the exact locations of the two dig spots from the cryptic maps.
Hew's Bane Treasure Map I
Located in southern Hew's Bane.
Southwest from the No Shira Citadel wayshrine, west from Tava's Beak (area of interest), south from Ko Estaran (group boss) and Forebear Junction (crafting station), east from Shark's Teeth Grotto (public dungeon).
This treasure map is one of the easier ones. The markings on it clearly points toward a beach and a body of water. If you have it, open up the map, and find the southernmost main road. Follow it to the end. The exact place shown on the picture is west from the nearby area of interest POI. The spot marked with an X is on a small peninsula, just southeast from the end of the main road. Once in the area, you'll see a rather tall boulder. There are three large palm tree just next to it. Go to them and dig out the treasure.
Screenshot Walkthrough
Hew's Bane Treasure Map II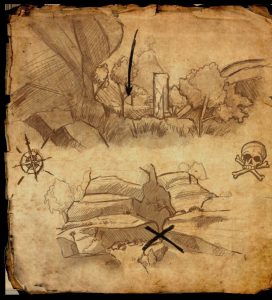 Located in western Hew's Bane.
Just west from the main settlement – Abah's Landing, west from Placations of Zeht and the Zeht's Displeasure wayshrine.
The lack of a greater challenge when finding the first Hew's Bane treasure map is compensated with the second one. Looking at this picture and finding out the location it points to without help will be a pain for everyone. Even the hints you get from the designers, who placed two clues in one picture, are not that much help. Once I found the map, I had to spend more than 15 minutes trying to find the location from the first part of the treasure picture, without any luck.
The exact spot from the Hew's Bane Treasure map II is just west from the Zeht's Displeasure wayshrine. If you teleport on top of this shrine, look toward the west. You'll spot the location from the second half of the treasure map. Head toward the passage between the mountains and look to your left. You'll find the dig spot there, on ground.
Screenshot Walkthrough