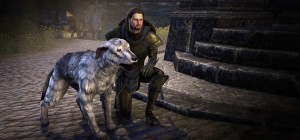 QuakeCon 2014 is in full swing and we got our first big news concerning Elder Scrolls Online. From today, ESO will be available for purchase on Steam. In addition to that, the game will be on sale for the duration of Quakecon 2014. so you can purchase the Standard edition on Steam for $30 and Imperial will set you back for $47.99. The game still requires you to have an ESO account and all that other stuff you are used to from a standalone client, but if you get it through Steam you get the friends overlay or you can even gift it to your steam friends. Another boon for those that choose to purchase the Imperial Version of the game through Steam right now is that they will get the Whiterun Wolfhound vanity pet. On the sale page it says that the vanity pet offer will last only until July 21st so you better hurry if you are planning to get it.
Existing subscribers are currently not able to import their game into Steam. If you add the game to steam it will not behave the same as if you purchase it there. We have to wait on Bethesda to give us import keys or something similar to be able to integrate our existing clients with Steam.
In other QuakeCon news related to Elder Scrolls Online we have "THE FUTURE OF ESO" panel happening on Friday where various developers should discuss what's in store for different aspects of the game. Event is taking place on Friday, July 18th from 5:00PM to 7:00PM CDT on QuakeCon Ventrilo Main Stage. You can submit your questions to developers on the official ESO forums and Twitter ahead of time, and you may see them answered live at QuakeCon! (Please use the #ESO and #QuakeCon hashtags on Twitter.) If you are not at QuakeCon, you can watch the panel and Q&A live on Twitch at Twitch.tv/bethesda or later on the official ESO Youtube channel.