Strider Caravaner achievement is a trophy you can earn in Elder Scrolls Online Morrowind. This is a general achievement that's worth five points. It is considered one of the easiest ones. Its worth in points is equal to the number of minutes you'll need to unlock it.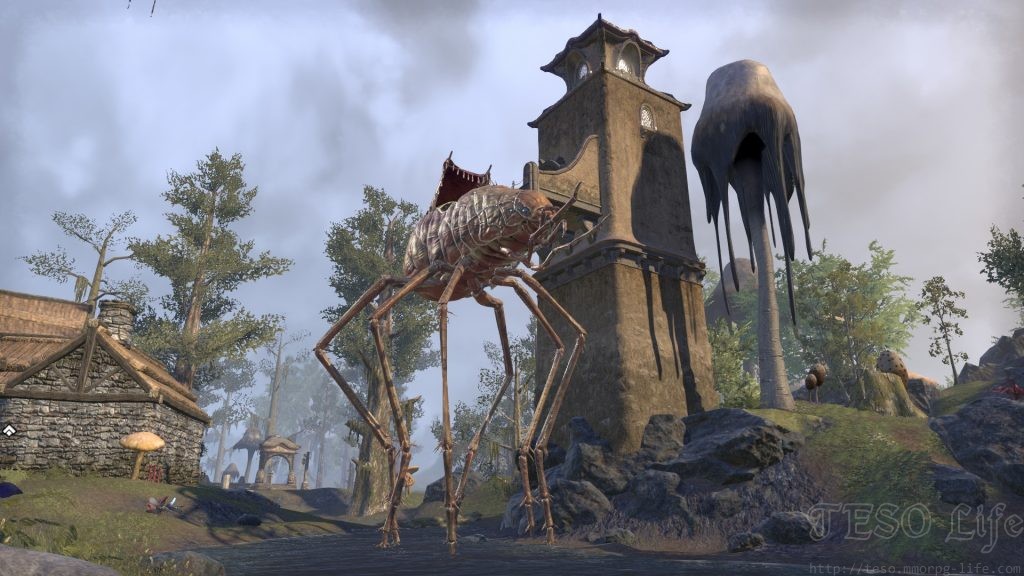 Silt Strider Locations
To complete this achievement, you'll need to visit the seven silt strider caravaners – one at each of the stations in Vvardenfell. Once you climb up the caravaner tower, you'll need to speak with the person in charge of the transport. Silt striders are quite unique creatures. You can hear and see them from the distance. The six long legs are the reason towers are required, so we can ride them to victory!
No.
Name
Location
Connected to
1
Nevos Sareloth
Balmora – Southern part of the city, on the other side of the river bank from the wayshrine.
Gnisis
Vivec City
2
Amili Yahaz
Gnisis – Northwestern Vvardenfell, next to the wayshrine and the bridge that leads to Gnisis.
Balmora
Vivec City
3
Narisa Androm
Molag Mar – Southeastern Vvardenfell, on the western road to Molag Mar.
Tel Mora
Suran
4
Medyn Hleran
Seyda Neen – Southwestern Vvardenfell, the place where you start your adventure in Morrowind.
Gnasis
Suran
5
Faven Thendas
Suran – Southern Vvardenfell, in the northern part of Suran, close to the wayshrine.
Seyda Neen
Vivec City
Molag Mar
6
Adosi Delvi
Tel Mora – Northeastern Vvardenfell, close to the central square of Tel Mora.
Molag Mar
Vivec City
7
Helseth Sadalvel
Vivec City – Southern Vvardenfell, just at the western entrance, close to the docks.
Suran
Balmora
Gnisis
Tel Mora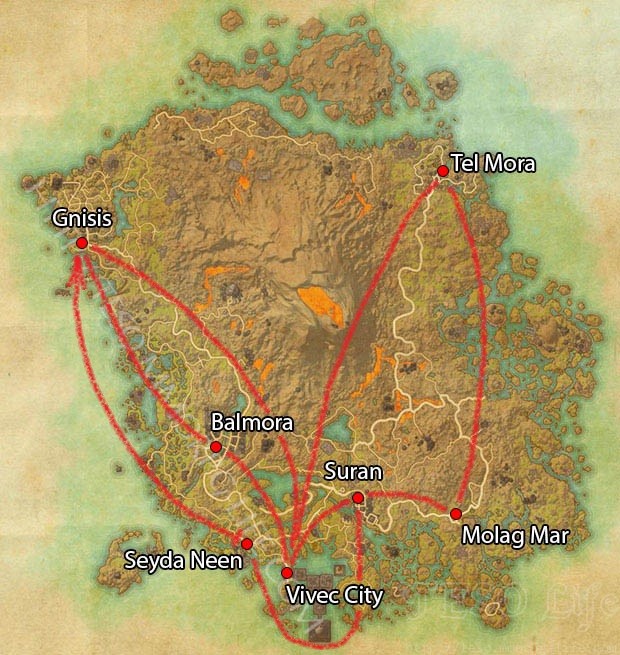 Using the silt striders at the start is a great way to save time, as you don't have the wayshrines discovered. The main city has great coverage of almost every corner of Vvardenfell. It is a great opportunity to experience this way of traveling from the original Morrowind, where they connected nine places.