Update 1.6 is around the corner – it's due to arrive March 2nd, and it's going to bring with it a lot of changes. One of the biggest additions to the game is the Justice System, which handles criminal activities.
With 1.6 installed, taking items that don't belong to you will finally be considered stealing – if you're caught, that is. The same goes for picking locks and pockets, attacking (and murdering) good citizens. If someone sees you committing a crime, you'll get a Bounty on your head, which will make guards react to your presence. Depending on the size of the bounty, they may order you to pay a fine or attack you on sight. Bounty will decay over time, slowly of course.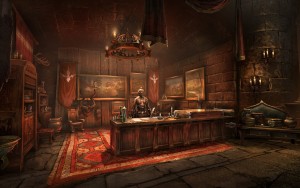 You'll need fences to sell stolen goods to, and you'll be able to find them in special places called "Outlaw Refuges". The update also brings with it a new skill line, called "Legerdemain", which will aid you (and gain experience) when doing bad stuff.
Source: blog