Tribunal Preacher achievement is a trophy in ESO Morrowind. It tasks you with finding all sermons from the 36 Lessons of Vivec. Like many other things in ESO Morrowind, these sermons made their first appearance in TES3. If you've already read all these books back in the day, you'll happy to know that there is a Sermon 37 now as well.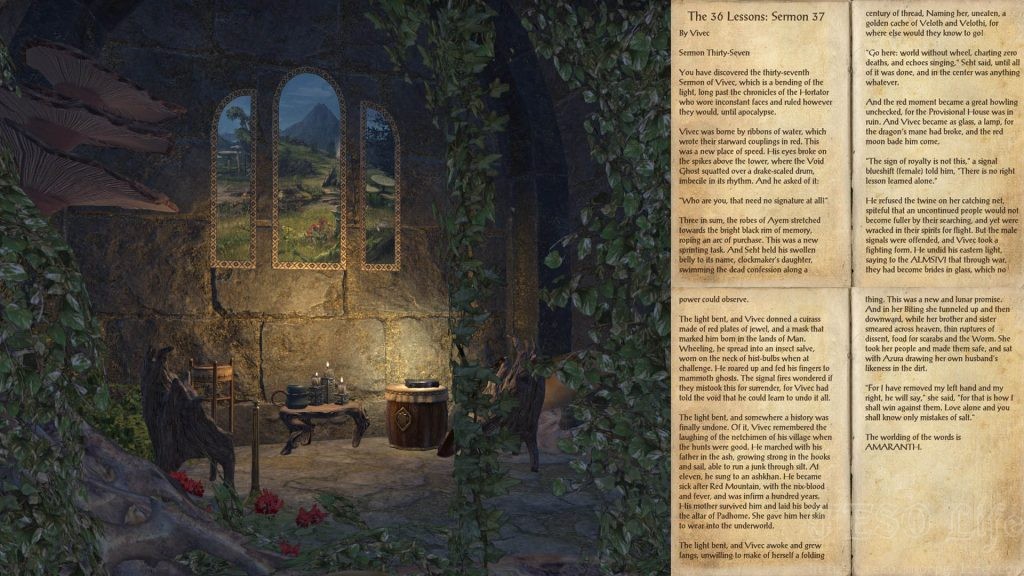 36 Lessons of Vivec – All sermon locations
All 37 lessons are listed in the alphabetical order below. The first information in the location column signifies the part of the map (for example "E" means it is in eastern Vvardenfell).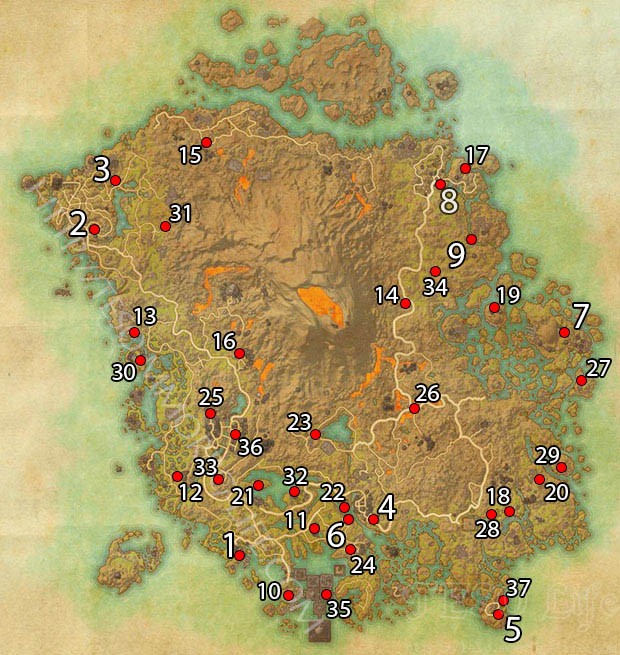 No.
Location
Description
1.
SE, Seyda Neen
Inside Census and Excise Office, on a table.
2.
NW, Gnisis
2nd floor of the Gnisis Temple, on a bench.
3.
NW, Ashalmawia
South from the dungeon entrance, next to a big tree, close to the water.
4.
S, Suran
Inside the Suran Temple, on a table.
5.
SE, Tel Branora Wayshrine
Break into Dalen's House and you'll find it on a chair.
6.
S, Suran
West from the town, on a bench in a house.
7.
NE, Sadrith Mora
Inside the Gateway Inn.
8.
NE, Vos
In the Gathering House, just right from the entrance, below a framed picture on the wall.
9.
NE, Pinsun, Hanud Tower
In a boat.
10.
S, Vivec City
Western part of town, close to the enchanting table.
11.
S, Master Kharekh's Residence
North from Vivec City, on a small boat.
12.
SW, Ahemmusa Camp
In a hole of the small cliff, next to an extinguished bonfire.
13.
W, Khartag Point
Close to the dungeon entrance, next to a bonfire and a backpack.
14.
E, Falensarano Ruins
In a wheelbarrow.
15.
N, Ald Carac
On a wheelbarrow with target practice marks.
16.
W, S from Ald'ruhn Camp
Next to a blocked shrine entrance.
17.
NE, Tel Mora
NE from the Vos town center. Break into Ahtram's House and you'll find it on a large table.
18.
NE, East from Molag Mar
In a bay, next to a small boat.
19.
E, Tel Aruhn
In Vedran's House, next to the entrance.
20.
SE, Shashpilamat
East from the Matus-Akin Egg Mine, next to an empty wheelbarrow.
21.
S, Amaya Lake
SE from Balmora, in a fishing lodge on a small peninsula, next to a bed.
22.
S, Ules Manor
South from the Suran wayshrine, on a dock, next to the four wooden boxes.
23.
S, Marandus
East from the Foyada Quarry, next to the rail tracks, on top of a pile of wooden boards.
24.
S, Ald Sotha
Close to a road, a large tree and some boulders.
25.
SW, Balmora
In the NW part of town, in the Balmora Tribunal Temple, on a small table, next to a window.
26.
NE, Nchuleftingth Wayshrine
In a wheelbarrow.
27.
E, Tel Galen
SE from Sadrith Mora, on the largest island, on top of the stairs.
28.
SE, Molag Mar Wayshrine
On the corner of a small pier.
29.
SE, Holamayan Monastery
On a wooden wheelbarrow.
30.
W, Arenim Manor
South from Khartag Point, close to the wall entrance.
31.
NW, Salothan's Council
At the end of a road, close to the shrine.
32.
S, Mistress Dren's Residence
Southeast from Balmora, on the southern shore of Amaya Lake, on a wooden box.
33.
SW, Vassir-Didanat Mine
At the start of a long stairway, on a barrow.
34.
E, Pulk
Next to the metal gate, on a chair.
35.
S, Vivec City
From the east side, in the Farmers and Laborers Hall, on a kitchen table.
36.
SW, Balmora
Just east from the two bridges, on a night table in Retheran's House.
37.
SE, Tel Branora Wayshrine
Inside a tower, below a three-part picture, next to some foliage.