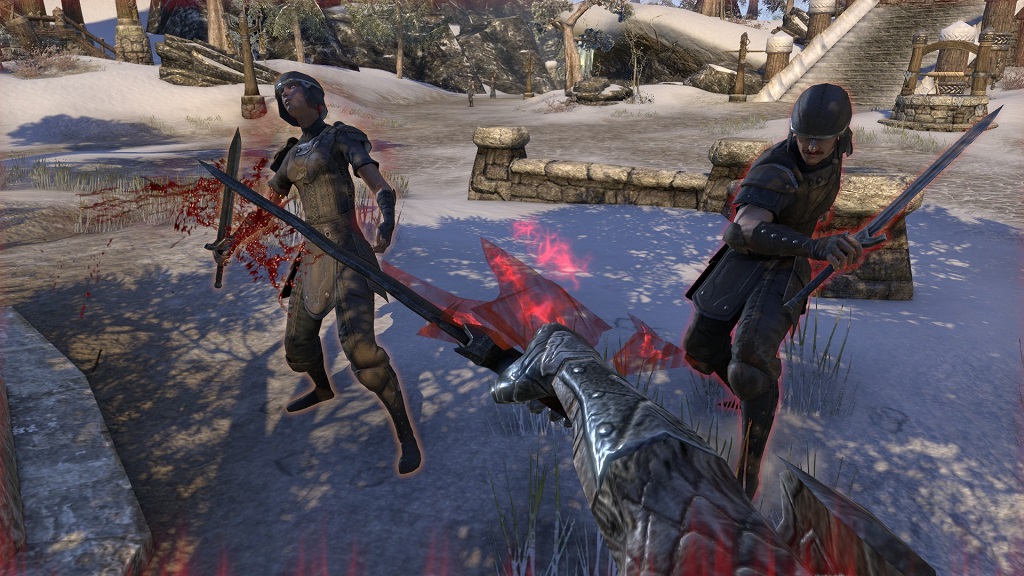 No matter if it's winter or summer in your part of the globe, this day definitely reached scorching hot temperature for all Elder Scrolls fans. NDA for TESO was partially lifted today, as Zenimax allowed members of the media to post their first thoughts of the game. We collected some of the TESO press first impressions in this article, but whether you will trust them or not, it's entirely up to you.


We will start with the article published on Massively by Eliot Lefebvre titled controversially "The Elder Scrolls Online beta is absolutely nothing special", published here.
In practice, though, the whole thing feels terribly floaty. I never had the sense of crisp action-and-response I got in titles like WildStar or TERA; characters seemed to drift about a bit, swinging slowly, moving slowly, with each fight marked by a very simple flow. Block this, interrupt this, dodge that. And picking the wrong one doesn't work — you can't block something that should be interrupted or dodged, and so forth. Again, perhaps this is all second-nature to fans of the single-player installments. I don't know.

Unless you're an enormous fan of the Elder Scrolls franchise, there's not much to recommend ESO right now. It's another generic fantasy MMO in a field already filled with them. And I just don't get it.
TESO First impressions covered on PC Gamer's web-site aren't as negative, but opinions in the preview still offer a lot to think about before deciding to go with the pre-order of TESO.
None of my concerns are insurmountable, even with the April launch quickly approaching. With populated servers and some extra heft added to melee combat, TESO could be a decent MMO, even if I'm not convinced it will be a great one. But Bethesda are already taking pre-orders, and it's a high price they're asking. On the basis of what I've played so far, I'd advise waiting until we see the finished product.
Leif Johnsons of IGN did a bit different article, letting us know how it is "Playing Elder Scrolls Online from a Console Gamer's Perspective" and what can be expected from PS4 and Xbox One version of the highly anticipated MMORPG.
If my experiments with the gamepad yield any insight into what ZeniMax has planned for the console version, it's likely that it may have the best foundation for a console MMORPG to date. It works so well because it stays true to the series' roots rather than drawing too heavily from popular MMOs, and it smartly escapes the trap of having too many abilities to use with a gamepad. In that regard, Elder Scrolls Online already seems to succeed triumphantly.
You can check out the whole preview here.

William Murphy tried to describe TESO from both angles: good and bad in an article published on MMORPG.COM.

Murphy wasn't entirely satisfied with the current state of graphical engine when displaying the armor models in TESO, but he also pointed out that building characters is slower than what was expected and loot is harder to find. On the other hand article praises how TESO can easily immerse player in the presented world of Tamriel, with well developed lore and well thought quests. The verdict?
Two months from launch, Elder Scrolls Online feels refined, polished, and ready to go. It's not at all the copy of WoW, SWTOR, or whatever you might think it is, and instead seems to be working very well at being an online Elder Scrolls. That's an achievement in and of itself, making a AAA MMORPG that doesn't feel like a clone of other MMOs, but rather a fitting new entry into the series from whence it came.

Today, massive stress test started and many players will get their chance to try out TESO, but Zenimax used the opportunity to remind all players that NDA is still in effect for them – if you got access to beta you still can't post screenshots, videos from TESO and opinions about the game, even if it's a simple response to the articles published on websites mentioned above.