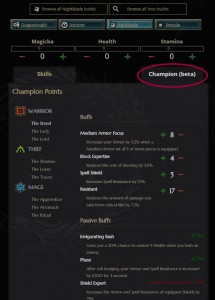 With the release of Tamriel Unlimited, in the form of patch 2.0.1, players are able to play the game without paying the subscription. A lot has changed since ESO launched and among those changes we have seen updates to player skills and an addition of a whole new system called the Champion Point system. Champion Points are part of getting rid of the old Veteran Rank system and they can be gained by doing quests, dungeons and other activities once you reach level 50. Once you get them you can distribute them among 9 constellations, each containing 8 buffs that you unlock by investing champion points into them.
We are proud to announce that we have updated our ESO Skill Calculator with the latest patch 2.0.1 data. This added some new skills and updated others. There are, even, some old skills removed from the game. We had to do a complete overhaul in order to get the calculator updated and in line with what people are playing right now. There are still some bugs and kinks, but we'll work on removing those in the next few days. We took the opportunity to also introduce a new tab in the calculator that lets you browse through all the Champion Point upgrades. I believe we are among the first to release such a tool for the Elder Scrolls Online community. Champion Point Skill Calculator is still in beta and there are several improvements we still intend on introducing. For now, you can browse through all the constellations and see all the available buffs. You can invest points into them to see what that does to the ammount of buffs you are getting. It can be used in planning the best champion point investment strategy for your high level characters. The ability to save your Champion Point setup along with your skill build is not implemented at this time. We hope to bring all these features that you are accustomed to with our ESO talent calculator very soon, so stay tuned.
We recently passed a milestone of 10000 builds being saved through the skill calculator. We thank you all for visiting and using the tool and we hope you'll find the latest additions useful as well.
You can visit the updated calculator for each class bellow (or through the menu above):
Dragonknight Skill Calculator
Nightblade Skill Calculator
Sorcerer Skill Calculator
Templar Skill Calculator