Auridon area hides six Treasure Maps and additional Auridon CE Treasure Map which is available as pre-purchase bonus. The most common ways to acquire maps are listed below:
random loot from mobs
random loot from locked / unlocked chests
you can buy them from a guild store
Once you acquire a map, its location will become visible only to you, but you have to figure out where it is, by using a treasure map sketch as a hint. This sketch is a similar replica of the area surrounding a spot where you should dig out a treasure chest. The place where the chest is hidden is always covered with dirt mound.
Auridon Treasure Map I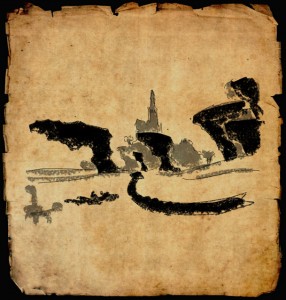 Southern part of Auridon map.
Maormer Invasion Camp area.
Just near a tall stone rock
Screenshot Walkthrough